Plate Cleaning Shot Blasting Machine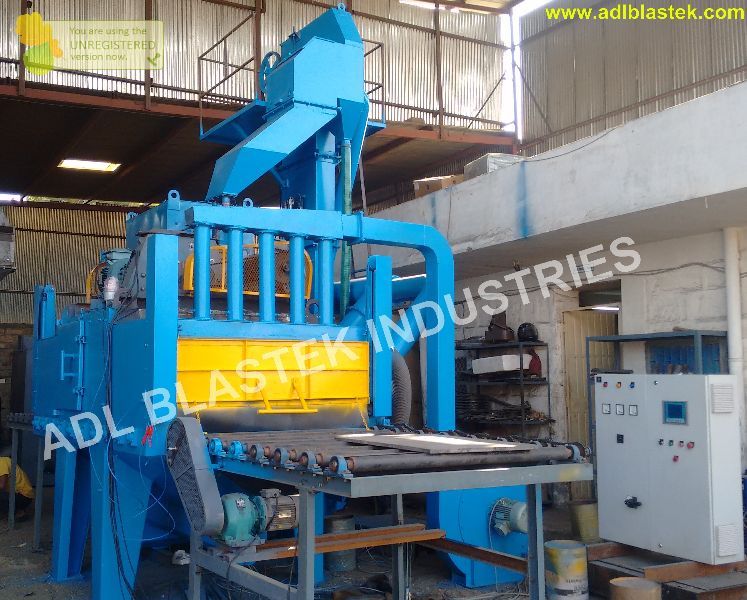 Business Type
Manufacturer, Exporter, Supplier, Retailer, Wholesaler
Weight
100-1000kg
Voltage
110V
Automatic Grade
Semi Automatic
Click to view more
These Machines are generally used for :
Remove of Heat treated scales from the surface of the Plates,
Rust Removal
For removal of old paint from metal surface of ships and other structural steel components.
For creating rough surface for proper bounding of the primer/paint.

Working Principle of the Plate Cleaning Machine :
It consists of inlet and outlet side Roller conveyors as material handling systems. The plates to be blasted are placed on inlet side of the roller conveyor, from where it travels forward and enters into the inlet tunnel. After passing through the inlet tunnel components enters into the blast zone which consists of Blast Wheels. These Blast wheel units are strategically placed around the Blast cabinet. The arrangement of the blast wheel ensures optimum blast cleaning and maximum utilization of the abrasive energy. Blast wheels fires the abrasive at high velocity on the forward moving plates & blast cleans them thoroughly. Blasted material moves forward and enters into the outlet tunnel.
A Dust collection system is provided with the machine which will continuously remove the dust and fine particles, thus keeping the inside of the machine and the nearby environment dust & pollution free.

These Type of Machines basically consist of under mentioned Parts :
Main Blast Cabinet with inspection Door
Mn. Steel Overlapping Tiles inside cabinet & on Door.
Vestibule at Inlet & Outlet Side
Rubber Curtain Type Job Passage opening at inlet & outlet side.
Blast Wheel Units with Drive Mechanism.
Abrasive circulation unit
Bucket Elevator unit
Abrasive Separation/Cleaning system with Storage Hopper
Automatic Abrasive Control Mechanism (SOUNDABRATOR unit)
Dust Collector with Cleaning Mechanism.
Brush-Off & Blow-Off unit at outlet side.
Roller Conveyor Type Job Handling system at Inlet & Outlet Side.
Control Panel with PLC Control System.
Looking for "
Plate Cleaning Shot Blasting Machine

" ?